Greetings humble readers: we have made it to our top 20 favorite albums of the year. You are in for a real treat. A mix of debuts and well-crafted albums from some staple Allston Pudding favorites lie within. It should be no question as to who holds our top spot this year, but all of the diverse albums within share a connection: a celebration of identity and self. Powerful albums from artists like Mal Devisa, Chance the Rapper, Mitski, and Kanye West tackle topics of race and differences of upbringing. Angel Olsen, IAN SWEET, and Frankie Cosmos explore all facets of navigating relationships as a strong woman. Noname and IAN SWEET bring us millennial anthems, so we can all feel personally attacked by this relatable content. Listen and celebrate the beautiful music these artists gave us this year just in time for the holidays. Below our writers discussed why these albums were their favorites; these don't serve as reviews but as personal anecdotes.
-Christine Varriale, Editor-In-Chief
*=Local
20. Noname, Telefone
"When I initially created it, I wanted it to feel like a conversation with someone who you have a crush on for the first time," Chicago based rapper/poet Noname told The Fader regarding Telefone, her heavily anticipated debut mixtape.
Three years after hype began snowballing in the wake of a verse on her friend Chance the Rapper's Acid Rap, Noname meticulously shaped Telefone into a modern ode to the smart phone as a connector of lives through memes, voicemails, and texts. Still, the rapidly fading idea of actually calling a crush to verbalize butterflies in your stomach feels vital in the richly detailed world Noname builds on Telefone.
Amidst hazily lush production, Noname recalls days of juking in backseats to B2K and being in love with her pair of KSWISS sneakers ("Diddy Bop") with the same hushed, yet confident delivery as when she's attempting love songs to women facing abortion ("Bye Bye Baby") or to her family and friends with the notion that no one is "safe in this happy city" ("Casket Pretty") Weaving layers of happiness, mourning, nostalgia, fear, and hope into every fiber of Telefone, Noname emerges with a vivid coming-of-age document as intimate as an hours-long phone call, yet as joyful as a inside joke-laden group chat amongst friends.
–Tim Gagnon
19. Lucy Dacus, No Burden
No Burden is Lucy Dacus' debut album, but it makes for an unconventional introduction. On opening track "I Don't Wanna Be Funny Anymore," she spends more time considering possible new identities than she does plotting any kind of concrete starting point, but as the album progresses, it reveals that this openness and imagination might be the most important thing to know about her. Her writing turns uncertainty into something that's almost comforting; she accepts that she doesn't know where life is going, but there's curiosity and hope in her version of the unknown. Whether backed by an all-attitude blues riff ("Troublemaker Doppelgänger") or building from a simple plea ("Map On A Wall"), every song mines strength from vulnerability and offers warmth for anyone who feels like they don't have it all figured out just yet.
–Karen Muller
18. Frankie Cosmos, Next Thing
Greta Kline has been writing music prolifically under the moniker Frankie Cosmos for several years, but with Next Thing we see a shift of sorts. No longer does Kline sing of her relationship with 100% positivity. For what seems like the first time, we hear her sing about the struggles of being in a relationship, the dark parts of it, the work and emotional labor that goes into a relationship. It seems like A Real Big Bummer, but this discussion is a sort of relief. It brings a new humanity to the Frankie Cosmos catalog, one that I spent a lot of this year relating to while going through heartache of my own.
There was a song from Next Thing for every moment in my 2016. I adopted a dog this year and no longer had to think "If I Had a Dog." I fell for someone I've loved for a long time like a true "Fool," getting hurt in the process with mixed feelings just like Kline. (Ending with saying "goodbye what the fuck" just like in "Is It Possible/Sleep Song") The rerecorded and fleshed out version of "On the Lips" Kline wrote years ago has found new life on almost every mixtape I made for a crush this year. I found inspiration and support from friends like Kline sings about in "Embody," dreaming of seeing the world and traveling to India this November. I could go on forever, because the best part about Frankie Cosmos' Next Thing is that it leaves you able to find a reason to listen to every song through its 29 minutes.
–Christine Varriale
17. Anderson Paak, Malibu
"Fuck fame, that killed all my favorite entertainers," Anderson .Paak emphatically delivers in his signature rasp around the halfway mark of lead single "The Season/Carry Me". A few months later, the line was auspiciously absent when .Paak performed the "Carry Me" portion to Stephen Colbert and, assuredly, a couple million Late Show viewers just coming around to the 30-year old singer/rapper/drummer's electric live presence.
.Paak's only going to find himself contradicting that line again and again after the genius of his sophomore effort, Malibu, continues its sweep of the known universe. Bolstered by his six(!) features on Dr. Dre's career-revitalizing Compton last year, .Paak took the opportunity to double down on his triple threat abilities, crafting an album of buttery neo-soul and gospel-enriched hip hop that was practically tailor-made for his voice and kit to sprawl out on. The positively Outkast-influenced "Am I Wrong?" and Kaytranada-produced "Lite Weight" prove .Paak's ability as a master of navigating dance-ready singles (although his criminally underrated debut Venice proved that repeatedly). It's his ease at storytelling though that pushes Malibu into essential 2016 listening, taking on a tumultuous upbringing in album opener "The Bird" and weaving a modern rags-to-riches story of couch-hopping homelessness, marrying his wife under the threat of deportation, and finding new ambition with the birth of his son.
Anderson .Paak may continue balking at fame and all of its poisons for all we know, but with an album as heartfelt and realized as Malibu in his arsenal, I imagine there will be little to worry about in his positivity-guided rise to the top.
–Tim Gagnon
16. Pinegrove, Cardinal
Alt-country doesn't always garner critical acclaim across the board, but the magic of Pinegrove is hard to ignore. New Jersey's DIY act unfurls total authenticity on Cardinal, a record of cracked falsettos, solipsistic moods, and platonic love so earnestly articulated that it's hard to keep your heart in check. There's a reason Pinegrove bookend the record with "Old Friends" and "New Friends" and why both songs punch you in the gut when played in order. Brevity and charm keep the album from losing its footing. With only eight songs to its name, Cardinal stands tall from its intent, a record of tracks trimmed to be remembered on their own and as a whole. So eight kids went for it, and they did the damn thing. Ardency wins in a year of unrelenting sorrow. A joyful guitar solo on "Then Again" offers a similar release of tension as Evan Stephens Hall's yelling on "Visiting," and each time it plays it bursts with emotion, reminding listeners that they too can do the same if they remind themselves what to be grateful for.
–Nina Corcoran
15. Mothers, When You Walk a Long Distance You are Tired
The English language is ripe with synonyms, yet it's still missing a word to describe the overlap of despondency and optimism. Frontwoman Kristine Leschper gets close to finding a way to describe it on Mothers' debut LP through, funnily enough, periphrasis. "We lived unloved in unmade beds/ You wore me like a necklace/ You closed me like a locket," she sings on "Too Small For Eyes." On "Blood Letting," she does it again: "God is stuck singing himself to sleep/ I am not the only one." Her lyrics are verbose in terms of structure, not details, and because of that she taps into a type of in-between: the overlapping space of gratitude and fear, inner peace and unrest, hopelessness and contentedness. Mothers rolls with uneven tempos and roaring indie rock cadences, a dance of sorrow within the indie rock-meets-folk canon, but what makes their first full-length stand out is the fearlessness of its vulnerability, something that's still raw to the touch no matter how many times you listen to it.
–Nina Corcoran
14. Japanese Breakfast, Psychopomp
Over time there's knowledge obtained to shield and spear pain, but no matter the past experiences and advice, loss of a loved one always leaves us empty handed. Michelle Zauner (Little Big League) documented the wounds of her mother's passing with Psychopomp. Through wide stretching synths, heavy riffs, and aching truth, the album translates the feelings of the unfathomable, with precision. Few pieces of art can encapsulate disorienting dread like"Heft" and "Psychopomp". There's an ease in having these feelings made tangible, and its weight moves you to live with utmost compassion.
–Lauren Moquin
13. Radiohead, A Moon Shaped Pool
This was a tough album to listen to when it came out. Dropping amidst beautiful Spring weather in early May, this drowned-out downer of an album is packed with sad piano ballads (case in point: "Daydreaming") and dreamy orchestral arrangements courtesy of Jonny Greenwood. Usually a closed-off, private group, you get the feeling that Pool was venturing into more personal territory for the band. Of course, leadoff single "Burn the Witch" saw the group treading familiar territory and sent shivers down spines for its creepy depiction of xenophobia and surveillance ("We know where you live" is never reassuring to hear, no matter how much you enjoy Thom Yorke's counter-tenor).
But much more of the album's themes were informed by Yorke's separation from his partner of 23 years (a comparable timeframe to the band's own lifespan), and this created an album that struck much closer to home than previous Radiohead efforts. In many ways, A Moon Shaped Pool feels like a retrospective of Radiohead's career. Many of these tracks were written years ago and only just found a home on this album: "Burn the Witch" came from the sessions for Kid A; "Present Tense" dates to 2008; but, most poignantly, "True Love Waits," the album's closing track, is also one of their oldest songs. Early versions of the song date back to 1995 when it was played on acoustic guitars, and many subsequent attempts to record the song added more features. But the version that we've ended up with on AMSP reworks the melody onto the piano, and the repetition of the closing line "Please don't leave" may mark the most vulnerable moment for a group that has tried to shield themselves from public curiosity that comes with being one of the biggest bands in the world.
–Harry Gustafson
12. Car Seat Headrest, Teens of Denial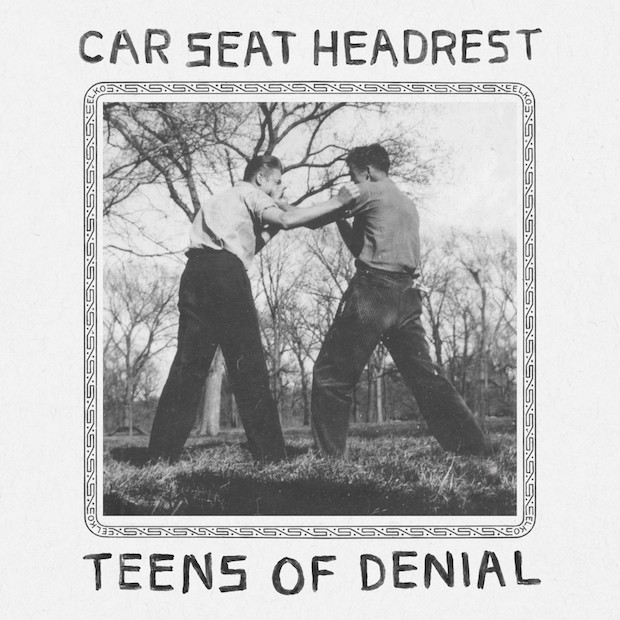 Over the course of a dozen-album Bandcamp discography, Will Toledo has developed a knack for writing expansive songs that defy predictability. Teens of Denial is his most ambitious and developed effort yet, reworking familiar rock structures to make room for more complex storytelling, taking the energy that typically maxes out in four-minute songs and figuring out how to make it work in eight and eleven. Tracks hurtle through turbulent moods and guitar lines feeling like a frantic stream of consciousness while still fitting into a neat narrative. But while the album's writing is full of bold moves, the story it tells is about stagnation and escapism. The closest it comes to a resolution is a dissatisfied acceptance of circumstances, but it's more powerful than any clean conclusion. A happy ending might be the ideal, but the opposite makes a better motivator.
–Karen Muller
11. Whitney, Light Upon the Lake
Light Upon The Lake is the kind of leisurely confident debut record that goes down like a couple High Lifes with college buddies; the question is whether you think the Champagne of Beers and old friends sounds like warm nostalgia or empty grasps at the past.
To be fair, Whitney seem like the kind of band that worries the same thing. Lake's singles are deceptively mournful in their soft rock adoration; "Golden Days" is plenty wistful, but singer/drummer Julien Ehrlich's pinched falsetto keeps things from getting too dour. Quieter moments like album opener "No Woman" and "Dave's Song" serve failed relationships and waywardness with a side of guitarist Max Kakacek's Southern-fried noodling, but delivered with absolute earnestness and conviction.
Lake is a record that, for better or worse, doesn't fret over sounding seamless among your parents' dusty record bins. In a year of pained longing for the past, Whitney's songs feel tailored for an age group growing tired of breakups and disillusionment, yet balks at the idea of "settling down." In this ephemeral state, Lake feels both rootless and right at home.
–Tim Gagnon