After months of self-reflection, dissection and surgery on his craft, Esh is feeling comfortable.
His recent album, Darwin's Frankenstein, which I like to describe as a mix of a Black Mirror episode and 2032-Underground-Hip-Hop, allows listeners to explore what finding comfort in that same discomfort he felt while piecing together limbs and spare blood vessels. Isn't that what Hip-Hop's fifth element is anyway? With classic boom-bap rhythms, futuristic melodies, and personal testament, Esh gives his honest take on what 'knowledge of self and community' is. Esh doesn't give us answers, instead, some new ideas for his and our own continued exploration. Which is more than enough, to make us hit replay on well written, produced, and above all, conceived and executed. Esh has been taking Frankenstein from the studio and elevates his listening experience to all new kinds of weird [the good kind of course].
Esh will be hitting Brighton Music Hall this Thursday, February 8th, along with Shredder and Astronautalis. After that he'll be off to Philly, for what's shaping up to be a dope show at The Pharmacy. In the mean time, let's step into a piece of the doctor behind Darwin's Frankenstein.
Allston Pudding: Congrats on the album and all the success it's gotten so far! I know how it can tiring/fulfilling it can be to work on a project for a while, especially one as content-packed as this. How has it felt since unloading that weight off of your chest?
ESH: Thanks, man. It feels good to have completed something, but I never really feel like I have a weight-free chest. Once one weight is lifted there are many more lined up to take its place. Or maybe it has just been the same weight this whole time. I don't know, I'm no bodybuilder.
I will say I am very appreciative of everyone who has said kind things about the project and especially appreciative of those who have said unkind things because, as everyone knows, I feed off of negativity like Vigo the Carpathian from Ghostbuster 2. It gives me eye-lasers….JK I'm fragile and cry when I'm rated any lower than 5 stars on Rap Yelp.
AP: Is there anything that you want people to pay close attention to on this project? Anything you think may have gone over peoples heads?
ESH: Any sort of close attention is nice. My music rewards repeat listens. There is no way you are going to get everything out of it after only a few spins. It's purposefully dense, cryptic when it wants to be, and lovingly pats your brain and/or heart on the genitals. At best, I hope to entertain people with my unique perspective on being a human in a sick sad world.
AP: The album digs deeper into your personal life, almost as a continuation, in the form of growth, from your last project, were there any growing pains within the process of making this album? Was there any relief found in completing and releasing this album?
ESH: Sure, there were growing pains. Just like everything else I've done, I learned more about myself as a person and artist, and more about my relationships with humanity. What is the act of creation besides delightful growing pains? This album feels a little bit like the beginning of a new chapter for me…or the end of one…actually fuck it, it's definitely an end.
I'm mostly relieved to be making something new again. I'm back to my lonely writer rituals. Practicing my filthy spirituality. It's a wonderful place that keeps me alive.
AP: What do writer 'rituals and filthy spirituals' look like for Esh.
ESH: On the surface, it looks like me and my glorious bed-head pacing for hours, drinking coffee in a robe as a beat loops in the background, and occasionally dictating the musings of an invisible man. Inside, it's the closest I get to a religious experience. I call it filthy because most people equate spirituality with piety, whereas for me it can manifest as raps about eating pussy or messy punchlines about Tony Danza.
AP: Performing difficult content, that is deeply rooted in your own personal story can be exhausting. In your performances, that I've seen, we can see you pouring yourself into your synths, drums, and most importantly the mic, is this more exhausting or therapeutic for you? If it's exhausting, why is it important for you to continue to perform these songs regardless, if it's therapeutic, what is going to push you, in the future, to leave that comfort zone, and grow further than you did from the last album to this current one.
ESH: Music is a constant ebb and flow of exhaustion and therapy. I think that most artists can relate to that manic wave. Performing is largely fun, with a few sour loud mouths peppered in for good measure.
I'm actually all about my comfort zone right now. I guarantee that my next album will be created almost entirely in pajama pants.
AP: How do you go about finding that comfort zone amongst the madness. What advice would you give to other musicians who are looking to find the same?
ESH: Comfort zones are earned. I earned mine from years of discomfort that made way for an older and wiser man who doesn't sweat the inconsequential. It sounds so obvious when I think about it now, but one of the most beneficial realizations I've had is that there is no 'correct' way of doing things when it comes to art. It's bad practice to hold yourself to a standard that doesn't actually exist. Prove yourself to yourself, and then trust your instincts. I've heard ugly raps & beats recorded with zero technical know-how sound 8,000x more enriching than some swing-and-a-miss pseudo-pop recorded in a million dollar studio. If the vibe is right, it's right.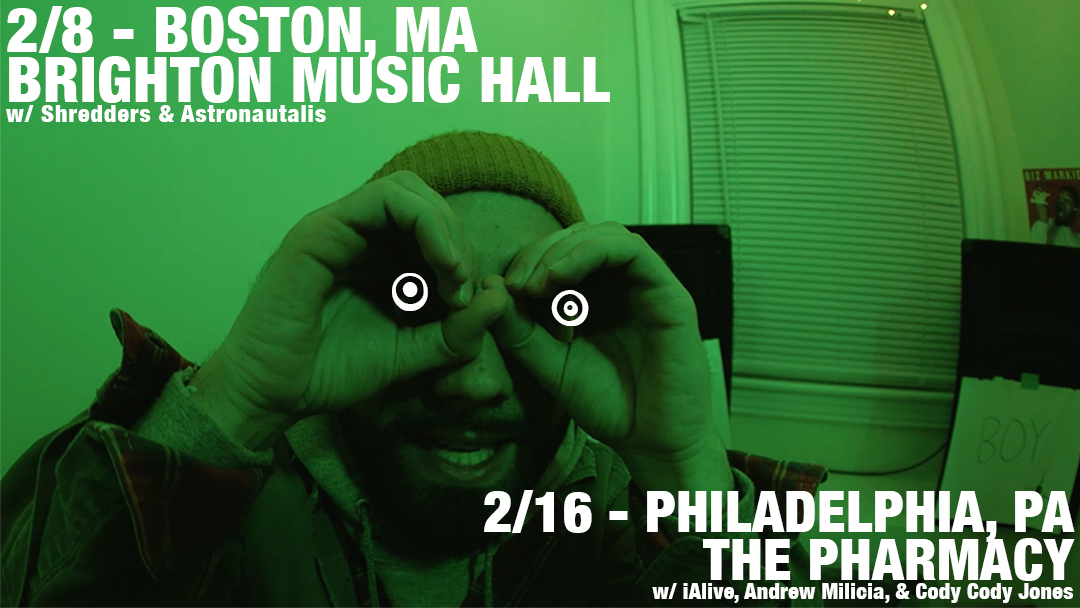 Shredder, with Esh, Astronautalis
Thursday, February 8th
Brighton Music Hall
158 Brighton Ave, Allston, MA 02134
Doors 8pm | 21+ | $12
Tickets