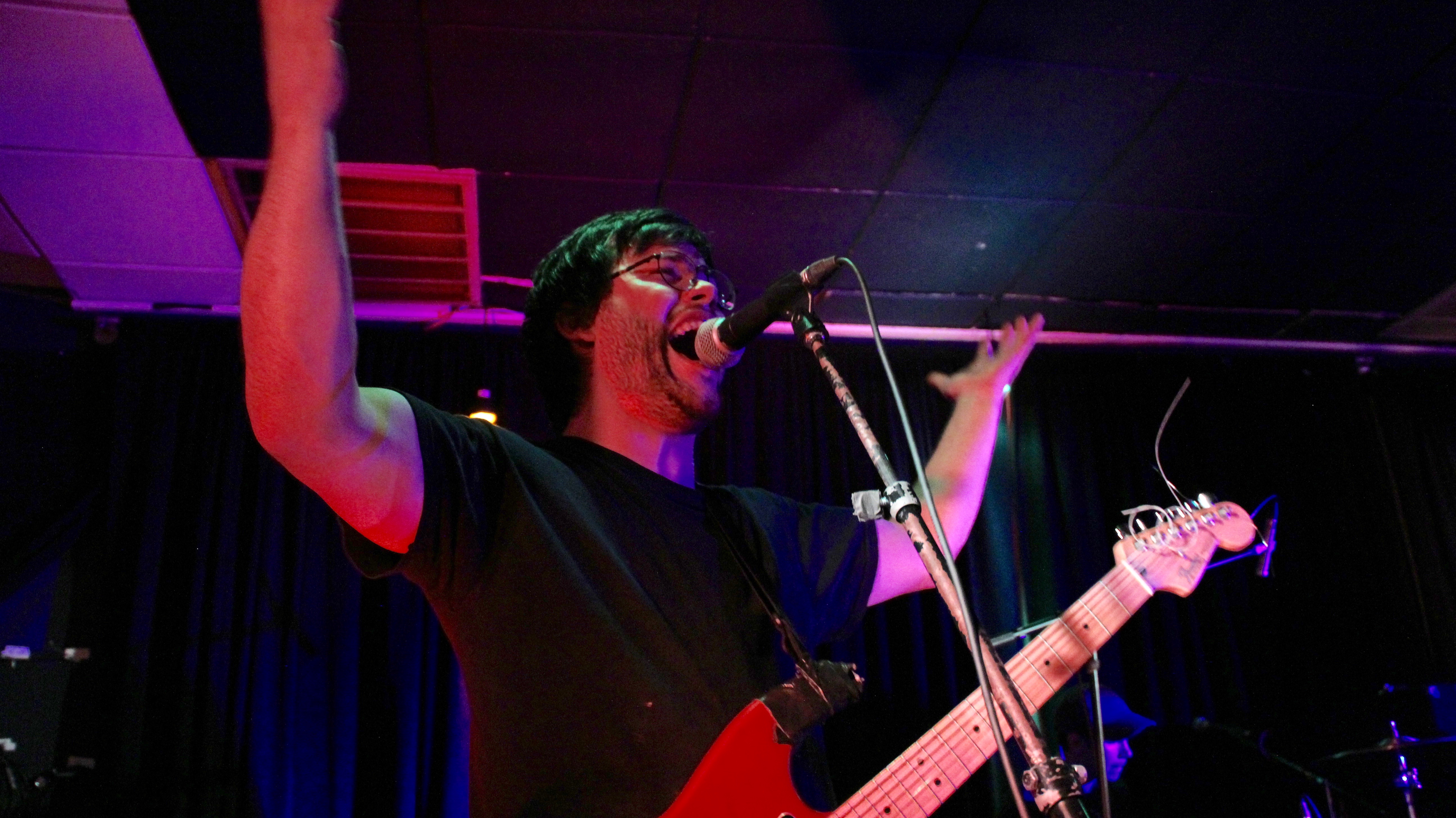 Boston's 5th annual Fuzzstival was, all things considered, a musical success. Despite some setbacks, including festival organizer Jason Trefts breaking his leg the day before the event started, Saturday's performances having to be relocated to the Cambridge Elk's Lodge from the Somerville ARTFarm due to rain and the resulting time crunch - the lineup of bands was incredible.
DAY ONE
Thursday night, a crowd of 20 to 30-somethings wearing flannels, high-waisted/high-water pants, jean jackets and bangs shuffled down the concrete stairs leading to the side door of the Elk's lodge.
The Central Square Elk's lodge is not everyone's absolute favorite spot, probably due to the dank basement vibes, but that didn't stop the event from being totally worth going to. After grabbing our $3 Miller Lites and High Lifes (from the super chill and nice bartenders), we rounded the corner to the back room where two stages somehow fit side by side. They were low, approachable stages and Dazey and the Scouts had just started playing. They started the show off with a grungy, cymbal-smashing set. They finished on a warm, but emotional note, as they invited all queer folks to the stage and said "this song's for you."

It was already less colorful and bright than last year's Fuzzstival in the Middle East Downstairs, but there was a coziness to it. The two stages allowed for a quick transition between bands and a quick flow to the night.
Blau Blau was on second. They are a newer band on the Boston music bill, but not made up of newer faces. Originating from Mini Dresses, a couple of the members went on to create Blau Blau. My friend described their sound as "modern day Blondie" and I don't disagree.
Fuzzstival was primarily but not ALL rock n' roll-based bands. For instance, La Neve performed electronic pop music with unforgiving lyrics that have a direct and impactful, political message. Headed by Joey La Neve Defrancesco of Downtown Boys, La Neve dressed in drag, danced up on a raised portion of the floor, and at one point put on a pink rancher's hat. This was an added spark to the night.
It was a pretty great set of bands, but those were definitely my favorites. The other bands that played were halfsour, Germ house, Gravel, Kal Marks and set headliners Dent.
I wasn't able to stick around for Dent, which was a bummer. I've loved their performances in the past and also enjoy the usually more serious and creepy element they bring to the stage. It's been three years now since Eyeballs came out and still very much worth a listen.
The night was cold and perfect for small breaks between sets to chat with bands and other Fuzzstival-goers over cigarettes. There was small-talk about which bands we had seen before and where we had all collectively bumped into each other.
All in all, it felt like that first night was an appropriate warm up to the three days of Fuzzstival. Complete with buzzing vibes of a few nervous bands and some social awkwardness amongst attendees. Ultimately, we all appreciated the greatness of the bands that are a part of our community.
DAY TWO
A Friday night at ONCE Somerville promises two things: (1) my tinnitus acting up the next morning and (2) bopping around with a bunch pals. Thankfully, day two of Fuzzstival delivered both. Every act performed 30 minute sets – well, sort of, but we'll get to that.
Mint Green kicked off the night with some minor technical difficulties but provided their usual amount of spirit. There's an abundance of reasons this act is playing every other house show you get invited to on Facebook but really it comes down to the quartet's ability to fill up a room with warm, bright sound. It's not the cleaner sound you hear on 2016's Growth but that's for the best and was very fitting for the night. Mint Green blast through every set like they're seasoned pros with bandmaster Ronnica needing no gimmicks to sell you on her vocals. That's not to say that gimmicks are unappreciated. Guitarist Frank Price's matching tracksuit was hands down the best outfit of the night.
Next up we got treated to the return of earthquake party!'s blend of noise rock and pop to Fuzzstival. It was a set filled with really solid melodic swaps between vocalists Justin and Mallory. The former had some Foxy Shazam-esque moments over thrashing guitar parts but was also able to match keyboardist Mallory's purer tone on some songs. They took the baton from Mint Green and carried the frenetic energy of the night. Sadly, that got a bit lost during Laika's Orbit – their set felt muddier than the band usually delivers. Perhaps this was due to comparison as Friday's lineup was absolutely stacked with new and old talent. Nonetheless, it fell a bit short of the night's standards and closer to dad rock. But have no fear, Baby! was there to bring things right back up. Kaley Honeycutt & Co. deliver breezy but still rockin' pop bangers that can make anyone smile through happiness and pain alike. It's an admirable quality as well as an infectious one.
I admit to my ageist attitude going into the next set. I was ready to snooze through A Band Called E but am thrilled to report that instead I got blasted back on my ass. Thalia Zedek of Come's project partners her with Jason Sanford of Neptune and Gavin McCarthy of Karate and it is a match made for the ages. The trio ripped – particularly Sanford, whose frame guitar is what your gearhead roommate dreams of making. Their set wrapped up with the rapt attention of the room – no casual feat, especially given Bat House's pending Boston return.
Bat House's glittery, sludgey set feels like Boston. It's trippy but cohesive, deceptively relaxed but well executed. Bat House delivers material that is as crisp and calculated as it is languid and dreamy. Their arrangements that flow naturally without tripping over any instrument. The band internalizes tempo like it was ingrained at birth and their ability to deliver that precision on stage is...kinda f*cked tbh.
WAY OUT, a Providence based band, followed with a strong but slightly tame set. As my concert fatigue set in I found the nearest open seat but even at a distance they were able to pique my interest enough to bookmark their Soundcloud, their material begging for a more comprehensive listen. And wasn't that the goal of the night?
Ava Luna brought me back to the stage for a set that catapulted them to the top of my list of acts at this year's Fuzzstival. Having an incredibly talented lead vocalist in your band is pretty crucial to thawing my jaded heart - having three binds my soul to your Bandcamp page for eternity. Pair that with some really syncopated rhythms, a whole host of instrumental prowess, and you've got an entire room dancing up a storm.
It should be mentioned that until this point no band was exclusively male. Frick yea, Fuzzstival. That's not to say it's a perfect situation but you don't need us to point out how rare it is to get to a noisy gig with that kind of gender ratio, let alone seven acts in a row. Horse Jumper of Love broke that streak but were tight enough that you forgave them for it. It never fails to amaze me that Dimitri Giannopoulos' crooning feels so at home and prominent despite the amount of sound that the trio is able to produce, especially with Jamie Vadala-Doran's active drumming style.
Finally, it was time for Ovlov. Everyone's attention was on the band that has reunited and broken up more times than you and that ex all of your friends hate. They churned through three or so songs while the room felt more than a little precocious, feeding off of frontman Steve Hartlett's energy. It's unclear where things started to go off the rails - there was a bunch of banter between artist and audience and then suddenly Hartlett was storming off stage and the lights were turned up on the crowd. It was a sudden and slightly heartbreaking end to what should have been a proper nightcap for everyone who had waded through a sea of fuzz. Instead we were left a bit out to dry, yearning for more - luckily there's was one last day to fulfill that desire.
DAY THREE
A rainy day could not stop the third day of Fuzzstival - Elk's Lodge became the host for the day's shenanigans. The dingy basement space wasn't what was envisioned but it suited Boston well enough, a fitting host to bands that are very familiar with basement venues, although very few with more than one stage set up.
The day started with Boston Cream, a name far sweeter than the band. There was an angstiness to their set that none of the previous day's bands had offered up. With added aggression, the band fired up the small but excitable crowd. Singer Melanie Bernier set the precedent for crowd interaction in a display that was part catharsis, part exorcism. She even had me on board with her whistle. The band's keyboardist had some adorably choreographed, although not entirely well executed, moves with her.
Ari Ratner of Peach Ring's performance had similar tones but kicked it up even more. Ratner's anger was palpable through gritty vocal style, lyrics, and performance - if not slightly overstated and purposefully juvenile. I might be alone in the judgement of the latter as the crowd ate it up. There is no questioning this backing band's engagement, their drummer did some really fun cymbal work while the guitarist laid out some solid rhythms that anchored the act. Oh, and then they switched instruments. Sick.
Nightime Sunshine was sandwiched between the two bands and provided a set that was hazy and mellow, a perfect complement to the rainy day but a strange break between the two acts. There were some questionable choices on vocal effects that made the act's balancing act of the organic and electronic even more pronounced but the set felt so low-key that it was forgivable.
Sammus built up the energy in the room by providing a set that was equal parts emotional roller coaster and display of raw talent. The rapper performed over only a backing track, which she herself controlled. Even with some vocal stress she was able to give us a set that made us introspective, celebrative, and fully appreciative of the complexity of our humanity. Her music delves into subjects of sex expression, depression, and belonging in a manner that is both universal and highly personal. I found myself and others openly crying at several points during her set, especially during track "1080p." Sammus' sets feel emotionally provoking for both artist and audience alike. In the span of 30 minutes she is able to make you feel the full range of emotions - grief, ecstasy, anger, love. She allows you to feel these emotions without holding onto them. What is equally important is that she does not judge you; she is your confidante as much as you are hers. Sammus' ability to recognize everyone's humanity breathes new, much needed, air into the relationship between artist and fan; past, present, and future self; and individual and society.
Taking a break from my own poetic waxing, MV & EE were ready to bridge the transition back to the moment at hand. Equipped with a fog machine, the duo delivered the only well lit set of the night. The DJs had a mix of the live and prerecorded, delivering guitar and vocals in the moment which were well placed in the mix and often panned to a noticeable degree. The act that followed, Honduras, carried on the same technical precision with backing beats, trippy and cyclical vocals, and what can only be described as a frickton of pedals.
One of the biggest highlights of the day was Loone. Loone are more of a regional band, hailing from Turner Falls, Mass - and it was more than a delight to have them grace us at the Boston festival. Loone played four songs, and at this point not many people were in the room. But everyone who went outside or had to leave missed one entrancing act. Time was running behind and the set was cut down, but their performance was emotionally charged and watching the band play was like being at a ballet. It is highly recommended that you check out the post-folk, queer rock band on bandcamp and in our recently released video of them performing at Studio 52.
The Kominas finished out the night and unfortunately by the time they played, many people had left. A couple of the band members had traveled on greyhound buses to get there, and you could feel their disappointment. They have definitely played for bigger audiences and it seemed difficult to be fully energetic for them at that point. The drummer was silly and energetic still - dropping drumsticks and picking it back up again and playing in a relaxed disposition.
All in all, Saturday had some high-highs and some low-lows. Despite the aforementioned setbacks and downfalls, Fuzzstival is one my favorite annual events in Boston and I can't wait for another year of it!
Full photo gallery can be seen on our Facebook page here.