"It's really hard to explain these ideas because a lot of them sound like platitudes," Kip Berman says bluntly, interrupting his own thoughts on becoming a father. "Like, if I were to read someone else saying half these things, I'd probably make some sort of gesture with my hand and be, like, 'whatever' about it."
It may come with little surprise considering the fact that we're talking about the singer/songwriter of jangle pop lifers The Pains of Being Pure at Heart, but Kip Berman occasionally finds himself at odds with his own sincerity.
Before we even began talking about The Echo of Pleasure, his upcoming fourth album under the Pains moniker, Berman spent the first ten minutes of our call discussing Kate Bush, the public acceptance of Pete Wentz as the "leader" of Fall Out Boy over Patrick Stump, poptimism, and his defense of Noel and Liam Gallagher of Oasis (which, according to Twitter, is something he seems to do fairly often.)
"If it were an ideal thing, I'd just write music and do interviews with someone that wants to talk about music," he adds. "That's what I did all throughout high school anyway."
Frenetic musical references are as much a genuine part of Berman's conversation as they are a common rallying point behind Pains. Their self-titled debut in 2009 was so joyously studied in C86-worshipping pop, it couldn't have been released by anyone other than venerated indie pop label Slumberland. Their follow-up, 2011's Belong, managed the bigger feat of sustaining the heart-on-sleeve bookishness of their debut while allowing glossier production and deeper treads into Smashing Pumpkins-loving grunge to seep in. For Berman though, being in a band of referential music lovers doubly served as a defense mechanism.
"When I started the band, I wanted the perception of the band to be four people living in one room," Berman says. "I don't like being the focus, like, the Pete Wentz thing. I'm not like some reclusive weirdo that's unknowable, but frankly, I don't think it's interesting to be like, 'let's get to know Kip Berman more.' I like hiding behind the idea of a band."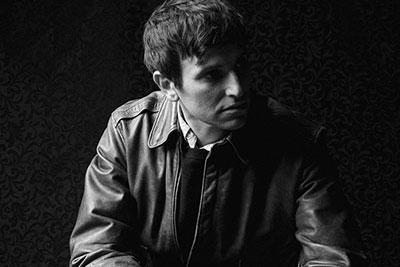 "Achieving something in music has no value if it comes at the expense of people that you love."
The idea hit a snag in the wake of Belong: after three-fourths of the band amicably left between albums to pursue their careers, Berman chose to continue Pains with a cast of studio collaborators, including Jen Goma of A Sunny Day in Glasgow. The aptly titled third album, Days of Abandon, doubled down on the band's sugariest pop tendencies while finding some acceptance in the fact that Pains has always been, in Berman's words, "Kip sitting in his fuckin' bedroom writing a song about how he feels, then bringing it to band practice." Still, a more confident sense of ownership had to come about for The Echo of Pleasure.
"I have a daughter now, she's one years old," Berman states, "I think I was more worried because I never had a baby before, so I didn't know if I was gonna be a good enough dad. When you're making a record, you always have an eye on what you hope the record can accomplish. Like, bigger shows, playing in Japan… I just wanted to do something on this record that was better than this band could be. A part of that was becoming a parent and knowing personally I had to be better than I was. I really had to do something of worth because I didn't know if I was going to get to do something again."
Where The Pains have thrived on hyper-specific odes to sex in libraries or women named Anne (with an 'e' at the end, crucially), The Echo of Pleasure revels in the sometimes obvious, earnest work of writing simply about love. Opener "My Only" breaks down in an angelic wash of synths and a choir of Jen Gomas harmonizing as Berman coos affirmations like, "I won't find another love like I found you" and "I breathe for you." The album is stuffed with seemingly wholesale expressions of affection; a line like "I couldn't take anymore, I wanted to die with you" on the single "Anymore" could find its romantically macabre place on any past Pains singles, but the sentiments take on a certain weight when it becomes clear Berman's has stopped singing about literary muses or idealized notions of love.
"I sometimes read interviews where artists talk about the struggle in making art and how hard they worked on something. Like, 'I went to the mountain top for 40 days and 40 nights and came back with the word of God etched in tablets' stuff," Berman says. "It's like, 'cool, Moses', but I'd say the best songs I've ever written are the ones that happen the fastest and probably have the least words."
He specifically cites "When I Dance With You" in his quest for fast simplicity in songwriting. A pogoing anthem that attempts to sound, as Berman puts it, "like The Strokes if I was in The Strokes… but I'm not in The Strokes," "Dance" tries to solve the anxieties of love in the span of a pop song.
"All the verses are the worries and the choruses are the balm to those worries. Like, 'I don't know how I'll make money', 'you get so down and I try to comfort you, but sometimes my words don't really help the situation,' 'I don't know what we'll be in thirty years'… but the chorus is the solution and it's just 'when I dance with you, I feel okay.' You can get more complicated than that; you can go into the reasons you feel okay or the type of dancing you mean, but at some level, when you're with someone you love, the problems can disappear for a moment. That's probably a sign you should be with them."
Pleasure is perhaps fast and simple in approach, but not in results; it's merely stripped of Berman's face-saving one-liners, replaced with a kind of all-consuming collage of imagery that has the power to evoke simple, but profound memories of friendship and companionship. If anything, Berman's unabashed sincerity has already found approval in the crucial "infant to toddler" demographic.
"When we were picking out the singles, I'd play my daughter the album and whatever songs she bounced along to or smiled to the most, those were the ones we picked," Berman recalls. "She really liked 'Anymore', 'When I Dance With You', and 'So True'. When she's an adult, she might not like Pains, but I will say that right now, my one year old thinks Pains is right up there with The Beatles and Raffi."
---
An unspoken theme of our conversation seemed to be how Berman is perceived both as a musician and a father in the wake of an album like Pleasure. He still apologizes regularly for sarcastically "denigrating the quality of [his] work as a band" and fits references to bands like Black Tambourine and Titus Andronicus in whenever possible, but now, it's not uncommon for him to compare the drums on his song "Kelly" to Raffi's "Bananaphone" or worry over whether he'll miss his daughter's 'firsts' because of work.
"We just went on our first tour in a while," he says. "Like, just 10 days; everyone laughs like that's nothing considering I used to go on tour for six weeks or, like, all summer into fall. But the day before tour, she took her first tentative steps and I was so glad I could be there. When I came home, she was just walking around the house like it was no big deal. Ten days is a lot of life for a baby when they're changing so fast."
At the crux of it, what might give Kip Berman the pass to express a few fatherly platitudes is his commitment to loving music and his family with the same unabashed, but thoughtful care as both age with him.
"Music has always been the thing I've loved most in life," Berman concludes. "But now I have human beings that, if push comes to shove, are even more important than whether I do a good album promo cycle. Achieving something in music has no value if it comes at the expense of people that you love."
The Pains of Being Pure At Heart perform tonight at The Sinclair with Frankie Rose and Ablebody. The Echo of Pleasure will be available on September 1st via Painbow Records.