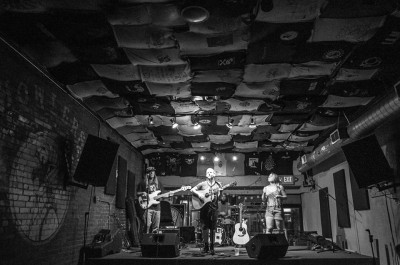 There seems to be a fairly lively Boston folk scene that's begging to be heard, as evidenced by bands like The Ballroom Theives,  Box Of Birds, and especially Mother Moses. Utilizing heartily plucked string instruments and sweetly sung harmonies to unleash their narrative lyrics, Mother Moses embraces the core of folk music.
Rollicking melodies create a lighthearted and buoyant EP in From The Ground, which you can stream right here. The lengthy tracks give the listener enough time to become truly immersed in From The Ground, feeling more like a full-length album than an EP. A full-length EP, if you will. With one album under their belt, this isn't our first taste of Mother Moses, but it is a sizable sampler of their sound if "folk rock" still doesn't sound enticing to you. Though heavier on the folk than the rock, the delightfully ethereal songs on From The Ground offer an introduction to the lighter side of the Boston music scene.
"New Mothers" is simple in structure, and yet as such, probably the most chilling. "When we wander we aren't lost," harmonize vocalists Jon Cox and Ellen Shultz. And so many of us are lost in this world–but From The Ground offers a sonal map to guide you, at least for a little while.
You can stream the album below. And be sure to head out to Out Of The Blue Too on August 17th for the EP release show. The second half of the EP is due out in six months, slated to make a full album when put together.