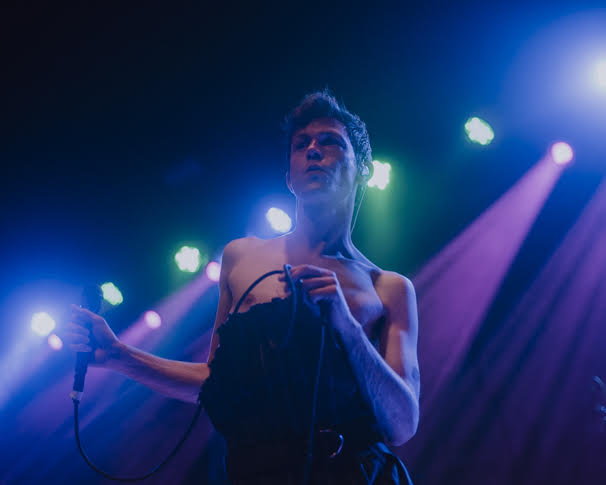 The first time I saw a photo of Mike Hadreas, he couldn't have made himself less visible.
Fading into a pale tan background, everything from his neck up was ripped up and crossed out like an embarrassed edit on a yearbook photo.
After hearing "Mr. Peterson", the first single from Hadreas' debut as Perfume Genius detailing an illegal and, ultimately, suicidal relationship with his high school teacher, Hadreas' desire to distort his face on his album's cover felt almost self-explanatory. Even the album's title, Learning, couldn't have sounded more shaken and tentative of its own existence.
I say all this because the transition from Hadreas on Learning to the strutting, unabashedly bobbing-and-weaving, loose-pantsuit-wearing Hadreas that appeared on the Royale stage Saturday is so fantastic, it deserves a little bit of embellishing. The change, of course, was more gradual than suggested; Perfume Genius' set on Saturday proved that it took four (highly personal, but nonetheless) vastly different records to cement its bandleader's boldness.
Openers Serpentwithfeet served as kindred spirits to Hadreas' journey, showing the Royale how there could be inroads between the emotionally scorched minimalism of Perfume Genius' first two records and the mutating, Kate Bush-inspired art rock of his last two. Singer/pianist Josiah Wise appeared amidst the haze of ambient R&B with a look of scorn, letting his jewelry and septum piercing sway tentatively until he sang out in gospel-like vibrato for a wayward love. Crediting inspiration from places as disparate as Psychology Today, Tchaikovsky, and "the power of scent", Wise came off as both a torch singer and a surgeon, trying to pick apart lovers ("Babe, I know you learned some fucked up shit from your mother," he calls out on "Four Ethers") and his own emotional outpouring.
"Otherside", the intro to Perfume Genius' latest offering No Shape, will likely go down as one of the most extravagant opening tracks on a record this year, but there's some skill in making an already massive-sounding song become transcendent. Howling its chorus, Hadreas proudly took the center of attention amidst glimmering arpeggios, literally bare-chested as his top continually slid off him. Taking primarily from Shape and 2013's Too Bright, the set's contrast even between records was noticed and necessary. The snarled, agitated "Longpig" stomped into the tempered "Valley", sounding more decided and content even with its themes of past drug addiction and suicide.
"I'm cookin' up some banter," Hadreas cheekily assured at one point, but left the promise largely unfulfilled. Banter wasn't needed despite Hadreas' well-documented humor on Twitter; Hadreas and his backing band masterfully weaved epics out of his back catalog, bringing the devastating "Dark Parts" home with the "Running Up That Hill"-referencing "Wreath" and glam-y "Fool". Arguably the most emotional moment came in the encore when Hadreas came out solo to play "Alan", Shape's closing track tentatively embracing the domestic life Hadreas has created with bandmate and longtime partner Alan Wyffels. Almost on command, Wyffels appeared on the last note, sitting beside Hadreas to play "Learning" as they've done for the better part of a decade.
The band inevitably returned to close with Bright anthem "Queen", but the subdued one-two shot of "Alan" and "Learning" perfectly encapsulated Perfume Genius' power. No matter whether Hadreas is dutifully strumming out his fears in "Normal Song" or putting the fear of a sashay in families' hearts on "Queen", Perfume Genius is a vessel that speaks to the raw, exposed nerves within everyone, no matter how quiet or loud they may need to be.
Thankfully, its leader is long removed from hiding amidst the soul-baring.
For photos from the show, check out our gallery below.