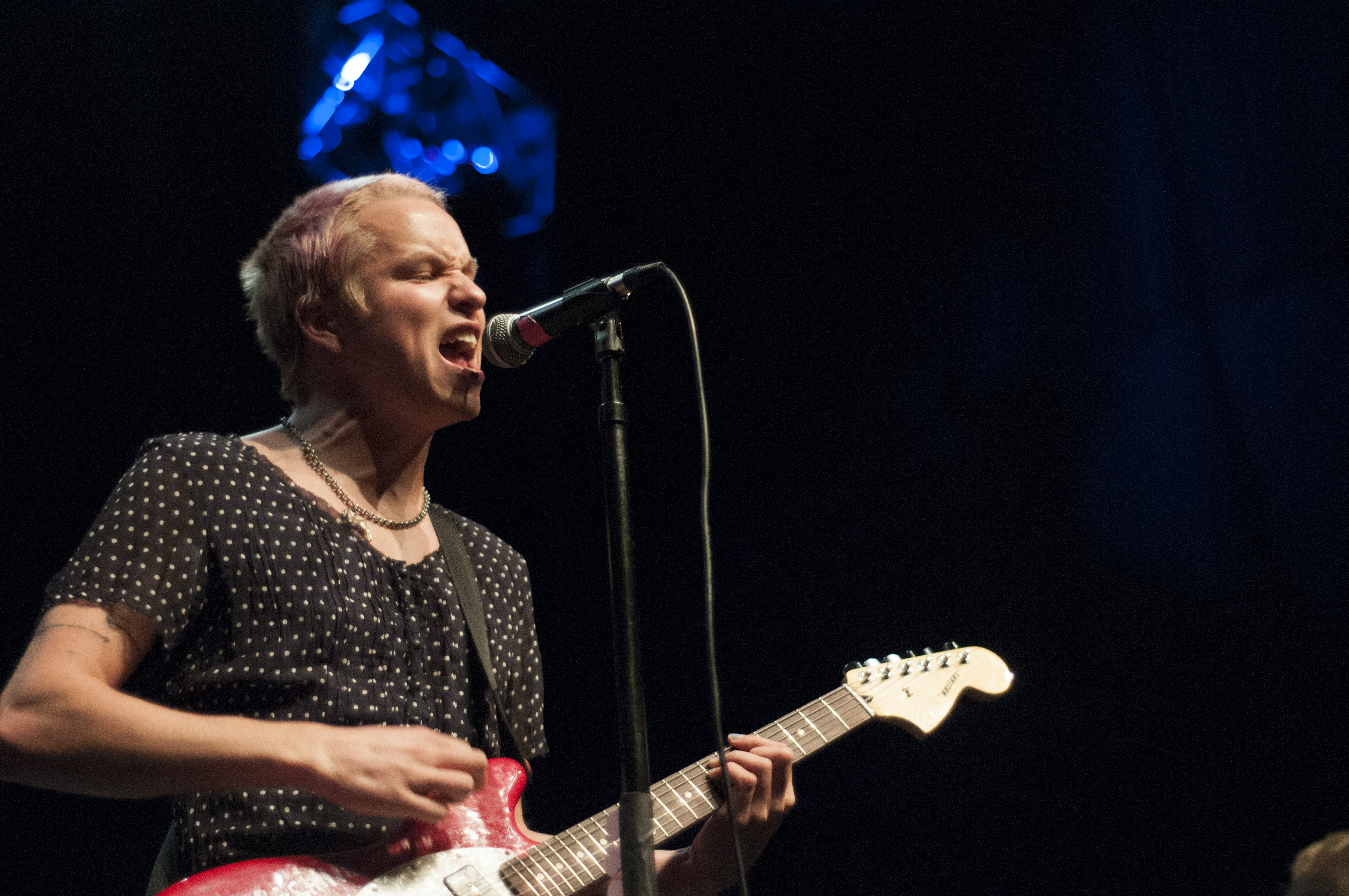 The line to see All Time Low started on Landsdowne Street by the Green Monster, and from there it swung around the corner of the Cask 'n Flagon, all the way to the end of the newly dubbed "David Ortiz" bridge. Sports fans decked out in Red Sox gear offered a strong contrast to the music fans with blue hair wearing ripped jeans, band tees, and flannels despite the summer heat. And while none of this was uncommon for a show at the House of Blues, it marked a big shift for the Oakland rockers, SWMRS.
Formed in 2004 under the name The Raining Souls, the band went through several name changes before settling on SWMRS in 2015. And like their name, SWMRS' music has gone through several transformations in that time. Their first album was compared to the early work of Green Day (perhaps as a result of Billie Joe Armstrong's son Joey being the band's drummer), while their later music veered from punk rock to pop punk when the band joined the Vans Warped Tour lineup. In 2015, SWMRS returned to their roots and entered the recording studio with Zac Carper, vocalist of California punk rock group FIDLAR. Carper would act as producer of what would become the band's third studio album, Drive North. After touring with Wavves and Twin Peaks in 2015, SWMRS hit the road again in 2016 with FIDLAR, fully embracing their punk rock side. Now opening for pop punk legends All Time Low, it's clear SWMRS hasn't forgotten their Warped Tour fans or completely moved on from their pop punk days.
Opening act The Wrecks hopped on stage around 7:00pm, playing a quick 20-minute set, finishing with a loud and wild jam reminiscent of a Rock Band ending bonus. Waterparks went on around 7:45pm, revving the crowd up another notch despite not having a bass player. Half way through their set, vocalist Awsten Knight led the crowd in a mock encore, sharing his observation on how "really good bands" always leave stage for a minute before returning for more, and then proceeded to do so.
By 8:15pm the crowd was getting antsy. Roadies carefully swapped out Waterparks' slick yellow and professionally painted bass drum for SWMRS' grungy Ludwig, simply adorned with neon tape spelling out their name. With their instruments set up and the sound check completed, SWMRS finally walked on stage around 8:30pm. Vocalist Cole Becker grinned at the crowd as he strutted out in a black polka-dot dress and a string of pearls around his neck, and the band launched into a dramatic arrangement of "Palm Trees." Cole's brother, guitarist Max Becker, dominated the left side of the stage as he climbed on the speakers and jumped high into the air. Though slightly more reserved, bass player Seb Mueller's performance was equally entertaining as he stalked the right side of the stage dressed in a snazzy black and red plaid suit. And despite being mostly hidden behind his drum kit, Armstrong's playing was loud and clear, and he earned brownie points from the crowd for wearing Red Sox shirt.
SWMRS didn't take long to breakout their hit single "Miley," a tribute to popstar Miley Cyrus, putting it just third on their setlist. Like with "Palm Trees," SWMRS added a twist to "Miley," but instead of changing the music, the band paused several times for Cole to share their thoughts on the world. During these frequent interruptions, Cole urged the crowd to "wake the fuck up" because "the moment you realize the future belongs to you the better off we'll be in 10 years." He also thanked the security for their work (and moms for being everyone's first "security"), ensured that the show was a safe space for everyone, and yelled "Fuck Trump" over the president's recent ban against transgender in the military. Other highlights from their set included "D'You Have a Car?," "Figuring It Out," and "Drive North," the band's hometown anthem and the final song of the night. During "Drive North," Cole shouted about his disdain for Southern California, singing, "I hate L.A." and playfully adding "I hate the Yankees" to his list of loathing.
The band stomped off stage around 9:30pm with no encore, leaving the crowd wanting more. With their set concluded, SWMRS proved they're comfortable straddling the line between punk rock and pop punk. Whether opening for FIDLAR or All Time Low, SWMRS puts on a damn good show that will satisfy all of your punk music needs.