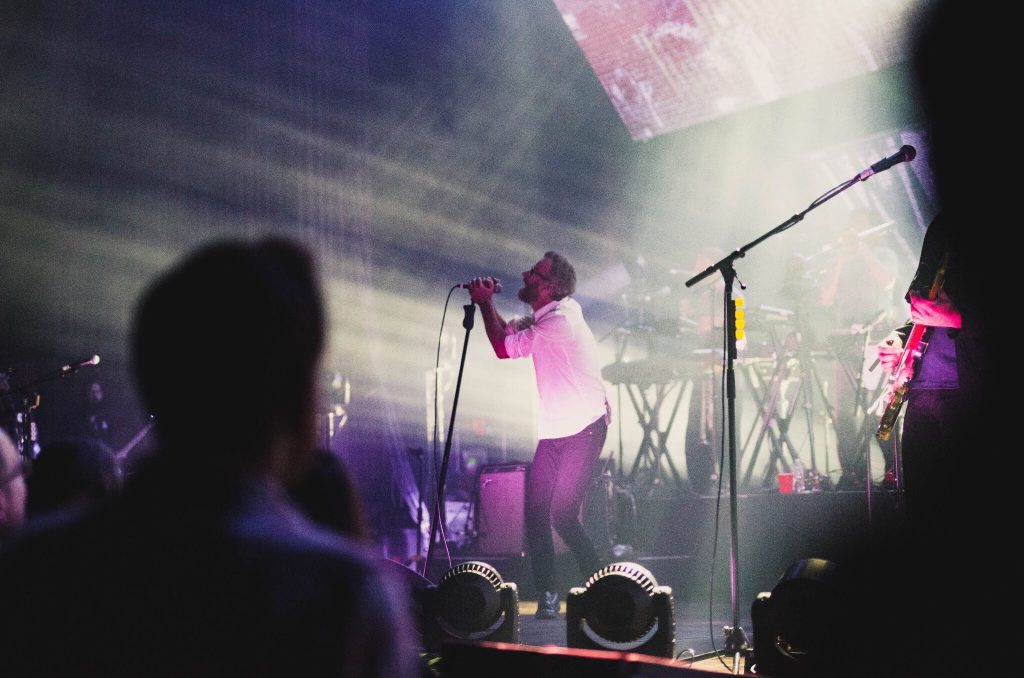 Consistency is good.
There's a scene in a Broad City webisode (lost to the impermanent hole of the internet) in which Abbi Jacobson's character speaks of Laura Linney, the four-time Emmy and two-time Golden Globe winner, as a bankable star. Abbi says "Laura is consistently consistent."
I would offer up the same appraisal of The National, a brilliant, consistently consistent rock band from Brooklyn you probably know a thing or two about. At the Wang Theatre on Thursday night, the band kicked off its first proper North American tour in support of Sleep Well Beast with a rollicking two-hour set.
You could measure palpable energy from a band that's taken some time between album releases. Singer Matt Berninger stalked the stage drinking wine (with ice) and fired not-quite-empty Solo cups into the crowd, trying to reach the balcony. He also jumped in the crowd to deliver his lines face-to-face with fans.
It feels as if he is possessed by the performance. On studio albums, Berninger delivers many lines with a demure approach. Live, the words themselves seem to escape with force. That sometimes came back to haunt him – he restarted the barnstormer "Turtleneck" because he flubbed the chorus. (He later compared the song's lyrics to the game Chutes and Ladders. And, during the encore, he skipped a chorus of "Lemonworld.")
The backing band itself was operating on another level. Nowhere was that more apparent than on Aaron Dessner's guitar solo on "The System Only Dreams In Total Darkness." The set was full of nostalgic surprises, including a seemingly rare performance of "Secret Meeting" off Alligator and "Son" from The National's debut record.
Plus, the stage techs basically were eighth and ninth members of The National, running on stage every 90 seconds or so to untangle cables, or to make sure when Berninger ran out into the crowd that he'd have enough slack. They were the real MVPs.
The National isn't just a great band to hear live, the visuals and lighting were also amazing. When the band walked out to the stage, the large screen on stage showed a backstage view of the band getting ready – a neat touch.
The National is a band often derided for being boring. I suspect it has to do with the subject matter – many songs are sad. But this perception feels misguided, after all, the band's live show is engaging and strong. Having seen them three times, I could even say they're consistent. Consistently consistent.
Adia Victoria opened the show with a set of blues-infused songs. The artist, currently based in Nashville, leans into slow-burn tracks. She is slated to play Afropunk in New York this weekend.