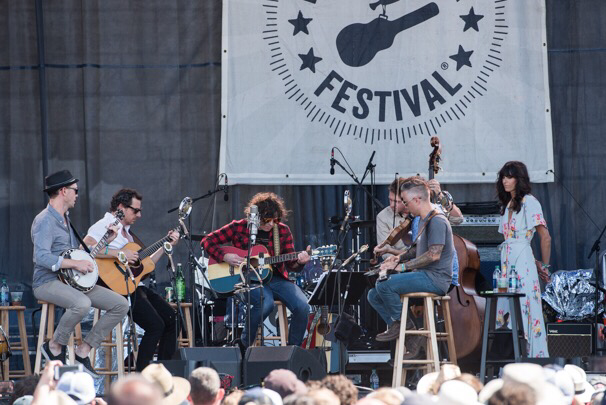 You don't need to look very far back in Newport Folk Fest's history to know it is a place of community and political speech.
Just think about last year's headliner, Patti Smith, imploring many generations to stick together and fight tyrannical powers. The performance came on the heels of then-candidate Donald Trump's official nomination as his party's presidential candidate. Patti Smith's words then feel prescient today. Hoisting her guitar in the air, she said: "THIS IS THE ONLY FUCKING WEAPON WE NEED. DON'T GIVE UP. LOVE ONE ANOTHER, MOTHERFUCKERS!"
Now, six months into what will be a four-to-eight-year-long nightmare, Newport Folk Fest feels more vital than ever, both as an escape from reality and because it will motivate its festival goers to at least ponder their place and encourage them to participate.
Speak Out and Surprises
One area where political speech will be made is the Speak Out set on the main stage Sunday. Billed as "A very special set to celebrate an artist's freedom to write songs that reflect the times in which he/she lives," there's not much to go on.
Justin Vernon of Bon Iver has tweeted on multiple occasions he will be playing with both Hiss Golden Messenger (Grandma's Hands Band) and folk legend John Prine, who is headlining the festival. Would it make sense for Vernon, an outspoken political voice, to show up and play a few songs during Speak Out? Yes. Will it happen? Who knows.
(There is also an "unannounced" set on Sunday. Don't get your hopes up: Vernon is not playing that set.)
The Stalwarts
Returning to headline the festival they first played at years ago, Fleet Foxes play Friday evening. Regina Spector, Ben Gibbard, and the Head and the Heart also join the day's lineup.
Wilco headlines Saturday. Offa Rex, which is a collaboration between Olivia Chaney and The Decemberists happens on Saturday. The Avett Brothers also somehow make an appearance that day. (Saturday always feels like the pick of the weekend, but it's almost mind-bendingly stacked.) Angel Olsen also returns to the Fort to play songs from the acclaimed album MY WOMAN.
Newcomers
Pinegrove. Pinegrove. Pinegrove. Pinegrove. Pinegrove. Pinegrove. Pinegrove. Pinegrove. Pinegrove. Pinegrove.
(The band plays Sunday afternoon on the smallest outdoor stage.)
Whitney's Light Upon the Lake was one of the big releases of last year, and the band's festival circuit runs through Newport on Saturday.
Big Thief's and L.A. Salami's sets on Friday have some overlap, but it's worth trying to catch as much of each set as possible.
The #LocalAngle
It would be remiss to omit some of the area's great folk scene from this roundup.
The unfortunately named Beantown Throwdown features the Hub's very own Ballroom Thieves, Tall Heights and Ryan Montbleau. All of the artists hail from the City on a Hill, or the City of Champions. Titletown. Furthermore, the Athens of America and things of that nature.
Wrap-Up
Newport Folk Fest promises to be yet another success. One indicator: it once again sold out without a single artist being named. Another indicator: on paper, it's a diverse lineup with something for every folk fan.
One thing that could potentially put a damper on proceedings: rain. There's a lot of it in the forecast (though, just days ago it was looking even more dire than it is as of this writing). Compared with last year's sweltering heat, the temperature will be a bit more favorable. Pray for sun, though.
Newport Folk Festival, Fort Adams State Park, Friday, July 28-Sunday, July 20. See the full lineup here.