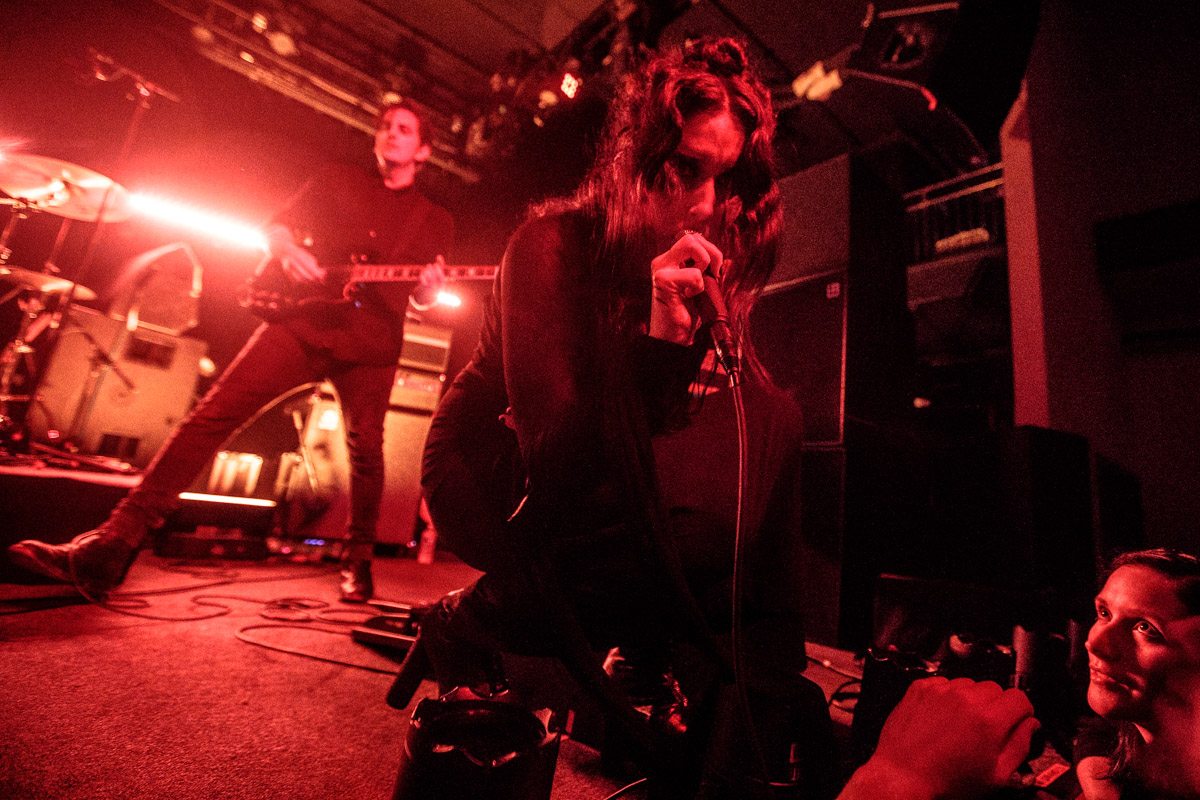 Maybe it's our proximity to Salem, maybe it's her slow but constant evolution into doom music, but every time Chelsea Wolfe visits town she sounds slightly more sinister. Her unique blend of electronic, industrial, folk, and metal always brings various characters to her shows. And in the shadow of her new album Hiss Spun, at the sold out Sinclair on October 19, she (and her fans) were giving off more ominous vibes than ever.
If Universal Studios and Chelsea Wolfe teamed up to create the park's most terrifying ride, it would look and feel a lot like the intro to Wolfe's set last Thursday. A pulsating black circle lit up in the center of stage as foreboding sound effects played. The touring band, including old friend and drummer Jess Gowrie, dressed in all black (including their instruments), and pointedly took the stage before Wolfe. Then, the ethereal doom queen strode towards the mic, draped in black like a tru goth, and opened their set with one of the fuzzier, heavier songs from Hiss Spun and track one, "Spun."
As the band descended farther into the set with more songs from the newest album, like "16 Psyche" "Vex," and "Particle Flux" Gowrie and Wolfe shone. Gowrie on drums was hypnotizing. There were so many massive motions and sounds coming from that kit, but with such preciseness, especially considering the balance between the thundering percussion and operatic vocals. On "Vex," Sara Taylor from the openers, Youth Code, lended her gritty vox and hot-blooded energy.
Wolfe then sprinkled in a couple tracks off last year's album Abyss and plunged into throwback "Tracks (Tall Bodies)" off Apokalypsis. All the while, the artist swayed softly to the gigantic monsters she molded into songs. Sometimes, as she sang about things like family secrets and bleeding out, she'd play a riff, then recoil. She never once smiled during the performance, but there might've been a sneer. The renditions of "Feral Love" and "The Warden" toward the end of her set seemed like crowd favorites.
A couple more selections from Hiss Spun, "Halfsleeper" off The Grime and the Glow (2010), and a haunting crescendo wrapped up a night of heavy, industrious rock for Chelsea Wolfe and her fans, who went all-out for this pre-Halloween show. Goths were serving lewks last week, and gave a prolific artist the time and respect she demands (and deserves). Here's hoping that the aura of Chelsea Wolfe continues to smolder, and her talents in metal, electronic, folk lyricism continue to unfold.