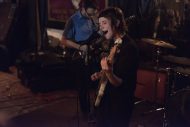 Flip through some photos of Looming's show at Hardcore Stadium on October 19 with Aviator, oldsoul, and Rainsound.
By Allston Pudding God damn, the dudes at Boston Hassle know their shit! The non-profit, volunteer run arts organization includes their website, Boston Hassle, show curation, and distribution of the Boston Compass paper. The mission statement: "Foster an innovative, compelling, and interconnected music, art, and film community in the greater Boston area through grassroots and […]
Dudes, BUFU Fest is just over 48-hours away.