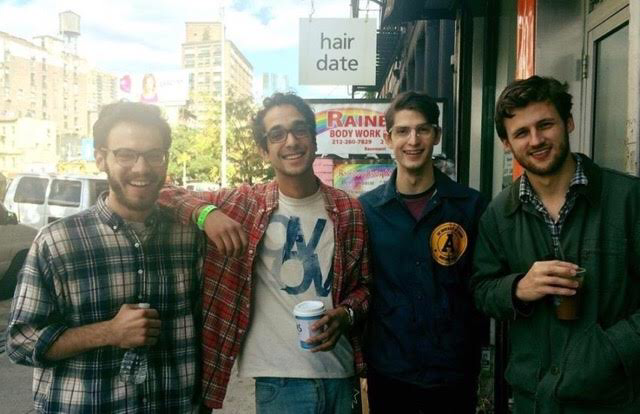 "Some people have model trains," Nolan Eley jokingly suggests, intentionally trailing off. "Maybe our next album will just be a yacht."
We've already decided that Infinity Girl, Eley's band for the past five years, can be deemed a "hobby" without any offense meant or taken. What we're struggling with is scaling the level of investment it takes to front one of the more underrated acts of the recent shoegaze revival. It certainly supersedes a coin collection or your standard neighborhood garage band, but even mockingly minimizing years of Infinity Girl's work next to owning a boat feels cruel.
It might also be that we're joking like there's more albums in mind, which there aren't.
On Friday, the four-piece band will release its final album, Somewhere Nice, Someday, with local label Disposable America. On Saturday, they'll play an understated hometown matinee show at The Middle East in Cambridge, officially putting Infinity Girl to bed.
Even in an age of convincing band breakups followed by sheepish reunion shows a few years down the line, Infinity Girl's weekend-long goodbye inexplicably feels more final than most.
"We just liked each other and liked the same kind of music," Eley offers as a quasi-eulogy. "It kinda happened and we enjoyed being in a band. It became too much though and the hobby became a little too much upkeep."
While it makes sense for a group of hobbyists to end on a high note as their work finds a fanbase of like-minded enthusiasts, the end of Infinity Girl is fitting when considering their music has always been highly observant of life's ephemerality. Where most of their peers shrink behind their pedal boards and let distortion do the talking, Infinity Girl felt like the rare shoegaze act that wanted to reach out through the noise and say something heartfelt. Thankfully, Somewhere Nice serves as a perfect distillation of that mindset, even if it wasn't initially meant to serve as a conclusion.
"I think it was a gradual drift," Eley says. "We all live in different parts of the city now, so it's so hard for us to get together to even practice. To play a show, we have to rent Ubers to get our amps… such a hassle."
If a rough timeline could be made, Infinity Girl's amicable drift began in the months after releasing their last full length, 2015's Harm. Eley, guitarist/vocalist Kyle Oppenheimer, drummer Sebastian Modak, and bassist Mitchell Stewart's respective full time work schedules ensured the band's tour routing would be minimal. In the following year, the band was quietly dropped from Topshelf Records. Receiving the news in the midst of recording Somewhere Nice, the band continued production as planned, shifting their focus to label shopping without considering an end game.
"It was just another record when we were recording it. I'm glad [it being our final record] wasn't on my mind at the time… that would've been way too much pressure," Eley says. "Not being able to tour behind it or do anything like that seemed kind of pointless though, so that's when it first came up."
Even without considering finality, Somewhere Nice clarifies the strengths of a band that toyed with the limits of an often unchanging subgenre. 2012's Stop Being On My Side introduced Infinity Girl's potential in crafting soaring, fuzz-drenched singles ("Please Forget," "By Now"), but minor touches like the twanging hook on "Blood And Dirt" and Eley's deadpan, slacker-rock earnestness on "Cellophane and Gold" seemed to come from a group avoiding rote, Loveless-era My Bloody Valentine comparisons.
Harm will arguably go down as the band's most accessible entry point, which isn't a slight to Somewhere Nice, but an emphasis on how overlooked its predecessor was upon release. Shifting erratically between woozy guitar odes to young adult anxieties ("Locklaun", "Around Me") and the band's most shimmering, jangle pop-bent songwriting (the frankly overwhelming one-two punch of "Dirty Sun" and "Young"), Harm perfectly articulates the unease that also comes with the excitement of trading a smaller city like Boston for the expanse of New York.
That being said, the concerns on Somewhere Nice come from a harder to articulate, yet more universal place. "The Comfort of What I Had" is Infinity Girl's most subtle album opener; Eley's doubts about companionship (sample line: "we don't choose our friends or laugh until we're dead / it's the only thing that keeps me away from my love of life and friends") is delivered in a whisper before washing out amongst discordant synths.
Eley insists the friendships within Infinity Girl are strong, but "Comfort" is a telling opening statement for a record that meditates on one's mid-to-late-twenties. Friends get married, some fade as mortgages and children seem less like imposing threats, and others just continue moving in an amorphous, seemingly unplanned state that comes with being on your own.
"I'm just trying to come to terms with adulthood and trying to reconcile the life I thought I would have by now with the life I'm actually living," Eley explained to Interview Magazine with the release of lead single "But I'm Slow."
"That is what time in my life I'm at," he continues in our discussion, "so it's kind of natural that it comes out in the songs."
Eley is succinct in discussing songs and meanings; when asked about his personal favorite song on the record, "The Color of Wine", the singer/guitarist simply reasons that it's "a really honest song for me and kinda special." Then again, elaboration is not a necessary commodity in lyricism, especially when songs like the warping "Headlights" and the Oppenheimer/Modak collaboration "Millgate" hold no illusion to the album's bruised nature.
"As far as intention goes, it's hard to say really," Eley briefly concludes. "I only kinda analyze it after the fact because I don't want to overthink it."
In terms of being in the uncommon position of playing these new songs live for both the first and last time, Infinity Girl cobbled together a last minute weekender with almost only pals as openers, specifically their long time best friends in Kindling.
"They're a great band, but they're also just amazing people," Eley emphasizes. "It's a very genuine thing… we just love each other's music and hanging out. Even if I hated their music, I'd still be so down to tour with them. I'm still surprised they like us!"
Friendships and genuine connections are frequently mentioned in our talk, both in terms of how they influenced Infinity Girl's decisions as a band and their ultimate decision to stop. For Eley at least, his warmest recollection of the band exists far away from any notable stage or particular crowds they've played to.
"It must've been after some show in New England because we went to Kyle's house in New Hampshire afterwards. We stayed there a couple times on tour, but we were just hanging out at his house in the middle of nowhere, just being pure friends. No worrying about loading in or anything at that point… that's probably going to be my fondest memory of this band."
Yacht be damned, Infinity Girl managed to achieve something most hobbyists spend decades trying to capture: a completed sense of satisfaction in their craft and themselves.
Somewhere Nice, Someday is streaming below and will be released on tape/digital tomorrow via Disposable America. Tickets for Infinity Girl's final show on Saturday can be found here.
Coach and Sons, Disposable America, Clicky Clicky Music Blog, and Allston Pudding present
Infinity Girl (Last Show)
Kindling
Elizabeth Colour Wheel
Leaner
Middle East Upstairs
472 Massachusetts Ave
Cambridge, MA 02139
Doors 1pm | all ages | $10 adv, $13 dos