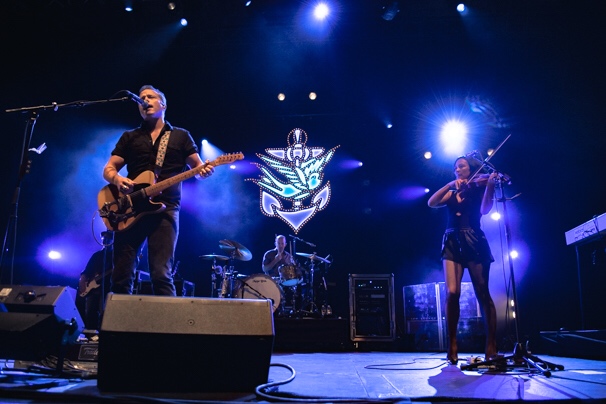 In many ways Jason Isbell & the 400 Unit's new record The Nashville Sound is about confronting storms: the dreadful "son of a bitch" that was 2016, getting older and facing mortality – you get the picture. On an overcast Tuesday evening in June at the Blue Hills Bank Pavilion, there were more literal storms to face down.
After the Mountain Goats played their set and packs of people sneaked out of the confines of the covered area to get $14 beers (I, for one, remember when the Pavilion was sponsored by Bank of America and the beers cost a paltry $11), the deluge began.
Bolts of lightning led to announcements asking concert-goers to shelter under the tent while the storm passed. The scheduled start time passed and people were left waiting. One big flash of lightning caused a jolt among fans; soon after, the lights went down and Isbell and company came to the stage.
The band launched into its 7-minute epic "Anxiety." Fortunately, the show went on without any more disruptions. Isbell's set mixed songs from his solo career along with songs from his time with country band Drive-By Truckers. One early set highlight was his cover of that band's "Decoration Day."
Songs from The Nashville Sound also sounded fantastic: "Chaos and Clothes" is a glorious, double-tracked, Eliott Smith-inspired slow burn of a track; "White Man's World" is a gritty indictment of society; and the heart-wrenching duet with Isbell's wife, Amanda Shires, "If We Were Vampires," which was a surprising, but great choice to kick off the encore.
One of the all-time classic Isbell albums will be Southeastern, a beautiful, introspective work of art that is unforgivably without even a Grammy nomination. The album's opener, the ballad and tale of redemption "Cover Me Up," shined even brighter.
Isbell is among the best songwriters in music today, sowing deeply personal reflections and expressionistic portraits of the south and the world at large.
Thank goodness the storms finally passed.
The Mountain Goats opened, with the unmistakable vocals of John Darnielle, performing seemingly whimsical, but emotionally intense tunes from a catalog that spans more than two decades. Almost always, the subject matter is dark: The band's latest album is called Goths, after all. Check out Allston Pudding's interview with Darnielle.