Read our recap and peep photos from this year's installment of Illegally Blind's Fuzzstival last weekend!
Watch Loone play a few of their new songs live for us at Allston's Studio 52, and catch them Thursday with LVL UP and Littlefoot at the Middl East Upstairs.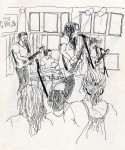 The Hotelier's Christian Holden talks love, lyrics, and inclusivity ahead of the release of their newest album, Goodness, out today (5/27).