10. Waxahatchee, Out in the Storm
It's been almost six years since Katie Crutchfield a.k.a Waxahatchee put out American Weekend. On her lo-fi solo debut, Crutchfield was outgrowing her teen years and the Alabama town where she's from. With an acoustic guitar or piano and a modern Southern drawl, she showed us her ability to evoke such simple, heavy emotions purely through a chord progression or pitch change. Subsequent albumsCerulean Salt and Ivy Tripp had a similar element, yet they kind of felt transient, not all there. But Out In The Storm is a gracious glimpse into a f*cking toxic-sounding ending of a relationship. Songs like "Fade" and "Recite Remorse" are lyrically raw, just Crutchfield's poignant lyrics over an acoustic guitar and her sister's keyboard, respectively. Others like "Silver" and "Never Wrong" are louder, more polished than we've heard from her so far, but still Crutchfield at her most honest. There's also a new stableness in her themes, and a strength– something that tells us that this sh*t will eventually end. This record's sad as hell, because that's Waxahatchee, but she sounds so sure in these infuriated recollections. So then, Out in the Storm isn't so much a return to the sounds of American Weekend as much as it is an acknowledgement of that album, and a motioning forward. With this record, Crutchfield is both out in the storm, and the storm itself.
–Jackie Swisshelm
9. Tyler, the Creator, Flower Boy
There is redemption at the heart of Flower Boy.
It's valid to write off the redemption arc; it's easy to ignore it completely; but it's more difficult to acknowledge and accept. I cannot blame those who have written off this album – choosing to celebrate a solo album from Tyler, the Creator, after his many homophobic and misogynistic comments was not something I ever anticipated. Giving it my time, and ultimately love, initially hurt but diving into this album gives you more and more to uncover about society and the artist living in it. Despite the political turmoil of this year, many albums were suspiciously devoid of
reflections upon larger social issues but Tyler has never had that hesitation. Flower Boy delivers the lyrics, "How many raps can I write 'til I get me a chain? / How many chains can I wear 'til I'm considered a slave? / How many slaves can it be 'til Nat Turner arise? / How many riots can it be 'til them Black lives matter?," in its opening track. Meanwhile, the Tyler brand of braggadocio is not buried, simply re-channeled and reimagined. He is finding new ways to exist, living out penance by redirecting the anger and desire that has always erupted. Coupled with his always
excellent production decisions, this is a Tyler, the Creator who can finally take his title with the pride and weight that it carries.
–Kara Kokinos
8. Palehound, A Place I'll Always Go*
This album aches, and it starts with the title: A Place I'll Always Go. The phrase sets the most mundane scene– visions of going to the grocery store, an almost inescapable action. But it works as a reminder, tugging on the ever-nostalgic heartstrings of an anxiety-prone generation. And then, Ellen Kempner's songwriting delves into a delicate but potent pain. Alongside clever riffs and brilliant bass lines, there are bits of memories that feel transcendent, perhaps due to that Dunkin' Donuts reference in "If You Met Her," one of the most bittersweet songs I've heard in years. There are snapshots of the coping process iconically whispered on "Feeling Fruit." And on songs like "Room," there are glimmers of normalcy and saving graces. But words like "heartfelt" and "thematic" don't do her lyrical abilities justice, especially as Kempner, a queer artist, explicitly uses she/her pronouns while writing about her partner for the first time on a record. For all us queer listeners out here, this action feels so vital. And it's all these simple, vulnerable actions, plus the fact that Palehound is a Boston band, that take this album from recommended to essential listening.
–Jackie Swisshelm
7. Julien Baker, Turn Out the Lights
Julien Baker's follow-up to the highly regarded debut Sprained Ankle sees the singer traversing the depths of despair and finding hope. The songwriting on Turn Out the Lights is confessional and heart wrenching. Baker's descriptions of settings such as a clinic ("No one is laughing from the audience of folding plastic chairs") almost place the listener in the singers' mind.
The album is sparse (but not as sparse as Sprained Ankle) in its arrangement, allowing Baker's vocals to really shine. In an interview with Stereogum, Baker spoke of her experience in church bands: "I could participate in a band setting by being in praise band faster than at DIY shows because I couldn't drive. So while those two things are opposite, they both contributed to my musical sensibility." When Baker's voice strains on "Hurt Less" and the soaring ballad "Claws in Your Back," these dueling backgrounds shows through. Despite its name, Turn Out the Lights ignites emotion.
–Jeremy Stanley
6. Big Thief, Capacity
Perhaps the most beautiful moment I've experienced in live music happened last winter at a small club in Pittsburgh. I'd come to see my "New Favorite Band" Big Thief whose frontwoman Adrianne Lenker decided to play a song off the folk rock band's upcoming record. Alone with her guitar, she barely made her way through "Pretty Things"–a soft song that lives in intimacy–before shedding a few tears at the end. She apologized, told us the song was the hardest one for her to sing and thanked the crowd for coming out.
Zoom forward a year, and "Pretty Things" is just the first chapter in Lenker's touching collage of stories on Capacity, Big Thief's sophomore LP. The term "capacity," meaning the maximum amount that can be held by something or someone, harkens to that raw performance I saw and forward through each lyrical guitar line on this album. Songs like "Coma," "Watering" and "Mary" are just emotionally challenging enough to handle, and listening to them is an act of staring down trauma in its elusive face. "There is a child inside you who's trying to raise a child in me," sings Lenker on "Mythological Beauty," a song addressing her mother as a young parent during a scary incident from the songwriter's childhood. That line strikes at the heart of what this album illustrates more comprehensively than any collection of songs I've heard before it: Our human capacity to give life and grow up all at once.
–Becca DeGregorio
5. Pile, A Hairshirt of Purpose*
The best part of any Pile song (well, besides all of it) is when Rick Maguire matches the building ferocity of his bandmates with his vocals only to reach a crescendo, and then he drops a melody that you find yourself humming days later. On this year's killer A Hairshirt of Purpose hear examples of this on "Rope's Length" and "Dogs."
Maguire's voice seems to always fit right in the cracks of pounding guitars and drums. His vocals squirm their way through the post-punk wasteland and give Pile's sound the unique effect of being haunting and catchy at the same time. Pile gets better and better with each release and A Hairshirt of Purpose is no exception. The album defies easy labelling. They'll hit you with the all-out assault of "Hairshirt" only to follow it up immediately with the twinkling instrumental "I Don't Want To Do This Anymore." The result is a cohesive piece that has natural highs and lows. By the end you'll be begging for more. This album might just prove that Pile is the best band going in Boston right now.
–Matt Ellis
4. Japanese Breakfast, Soft Sounds from Another Planet
Atmospheric. Euphoric. Other-wordly. For Japanese Breakfast's sophomore album, aptly named Soft Sounds From Another Planet, Michelle Zauner has created a piece of work that truly transcends the listener into another dimension. That's what makes it so great–you can get totally and completely lost in it. The album is a more refined and mature follow-up to her 2016 debut, Psychopomp. From the upbeat "Machinist" with the killer sax solo to the eerily instrumental "Planetary Ambience," Soft Sounds is incredible as a whole and about ten times better live. "Dream on, baby / Were his last words to me," Zauner sings on the ethereal single, "Road Head," which she supposedly wrote because she was told she wasn't meant for a career in music. This album not only proves that person entirely wrong, but has also allowed Zauner to explore and expand her sound in the best way possible.
–Cara DiFabio
3. Vince Staples, Big Fish Theory
When Vince Staples said he thought Big Fish Theory should be nominated for Electronic Album of the Year at the Grammys, he may have been right. Influenced by his recent collaborations with Gorillaz and Flume – as well as other big names like James Blake and the ever-mysterious Burial – Staples crafted an album full of infectious synths laid over garage and breakbeat house stylings that you'd expect to hear from a grime rapper. With the help of veteran dance producers like Flume, SOPHIE and more – as well as a host of great guest appearances – Staples delivers his most focused effort to date.
Big Fish centers on a rejection of partying as a means of escape. "How can I have a good time when death and destruction all I see?" he says on the hook to "Party People." His party is sociopolitical dissent, and what sets this album apart from other rappers who have made the crossover into similar EDM waters is Staples' lyrical sharpness mixed with his unrelenting criticism of the country's racial and social injustices. The album's best track might be "BagBak" (which recently featured in the thrilling trailer for the upcoming Black Panther movie), with its refrain of "Tell the President to suck a dick because we on now." Vince Staples has been on for some time now, and Big Fish Theory cements his place as one of hip-hop's sharpest minds.
–Harry Gustafson
2. Kendrick Lamar, DAMN.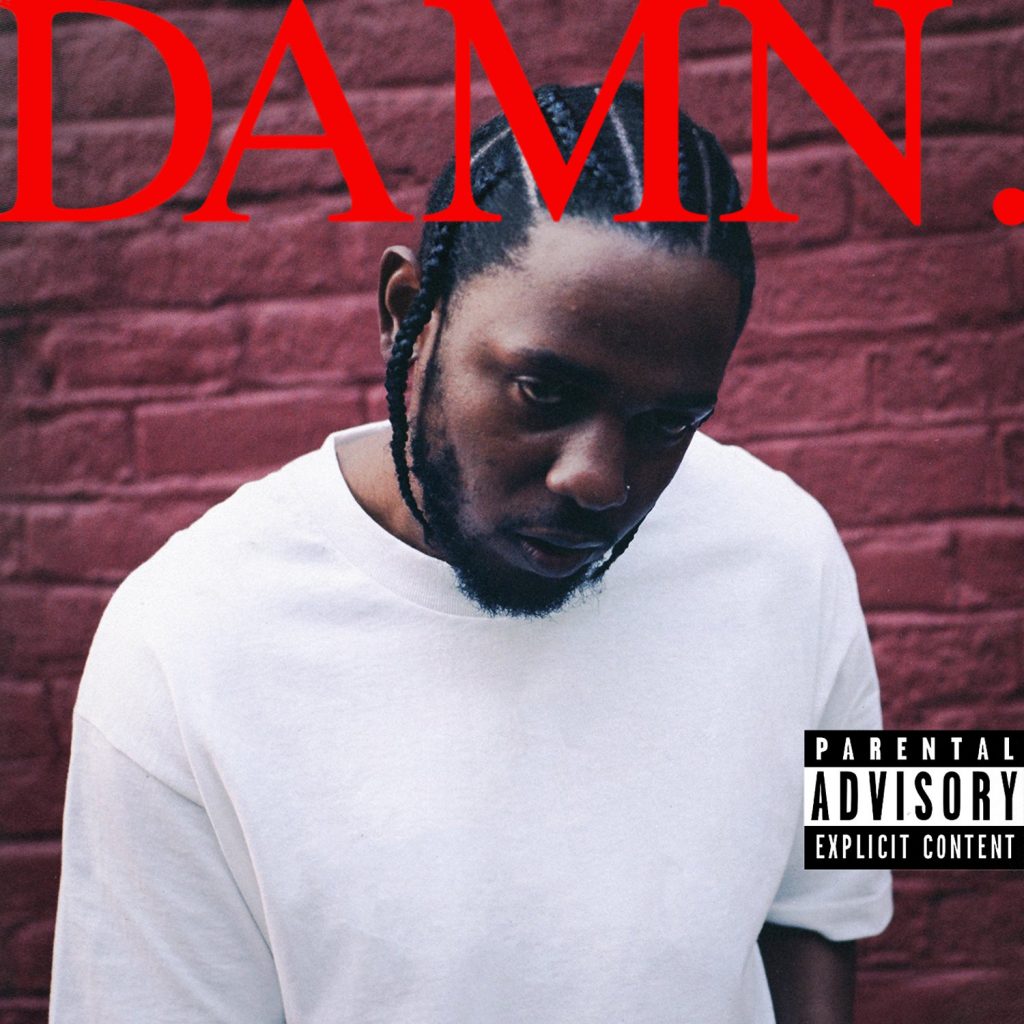 For lack of a better word, "DAMN" is truly the best way to describe Kendrick Lamar's fourth studio album. For a good portion of the summer, you couldn't go anywhere without hearing "HUMBLE" blasting from a car zooming down the street.
DAMN. is truly one of those albums that's for the culture; a record that speaks to blackness and holds content that hits home on a multitude of levels for black folks. Touching on his personal success in the game, the importance of his community in Compton as well as the toxic levels of anti-blackness in America, DAMN. is the kind of record you need to listen to multiple times to catch all the layers Lamar manages to nestle in a mere three-minute track.
The tour that accompanied the record was arguably one of the most highly anticipated tours of the year. Along with a handful of pop-up shops with exclusive city-specific merchandise, Lamar's marketing & merchandising team worked tirelessly to ensure that every fan got a piece of memorabilia to commemorate the album.
Once SZA's record dropped, I truly forgot about everything I listened to in the earlier half of the year so revisiting DAMN. for the first time in months took me back to the excitement I experienced on the night it was released. I was reminded of the firm grip Kendrick had on Spring/Summer '17 and why this record resonated with so many folks. DAMN. surely has the type of longevity that will keep it on exemplary album lists for many years to come.
–Lindsey Anderson
1. SZA, Ctrl
In Solána Rowe's own words: "Just give as much as you take, forgive as much as you hate, or get the fuck out." Her artist name SZA and her debut album title Ctrl read in that same, pointed "Here I am" style of sincerity, like the day-to-day worlds created in your 20s: My politics are X today. I feel loved by Y tonight. He'll be Z in the morning, and I have control over either everything or nothing at all.
Ctrl is a radical examination of relationships, but in the broadest sense of the subject. Bookended by a phone call with her mother, SZA expertly sings her way through ex-lovers ("Love Galore"), insecurity ("Drew Barrymore") redemption from mistakes made ("Pretty Little Birds") and just a little take on mortality to top things off ("20 Something"). Perhaps the most ambitious writing sits with "Doves in the Wind," which mentions "pussy" nearly 30 times, "clitoris" once and sends the message home by censoring a single mention of "dick" with a parentally loud *bleep.* It's an anthem about our relation to language, smoothly sung through and saturated with messages about this particular moment: "You could never trivialize pussy."
SZA's relevance lies not only in the catchy sonic world she creates, but also in the moments of care she embeds around every turn of Ctrl. The final minute or so come to mind, when she lightly sings "God bless those 20-somethings," clapping to each repeat of the sentiment. The music fades, and her mother adds that whether we do or don't have control is a lifelong question: "If it's an illusion, I don't want to wake up. I'm gonna hang onto it because the alternative is just an abyss, a hole of darkness and nothingness. Who wants that?"
Nobody wants nothingness, the absence of togetherness. During a year where retreating into ourselves was a tempting direction, SZA reminded us that our connections are holy and worthy of conversation, scrutiny and eventual improvement. Naming Ctrl Allston Pudding's Album of the year in 2017 was obvious for this very reason. We needed it.
–Becca DeGregorio